N_SEME 2019
February 8-9, 2019 at the University of Virginia
an electronic music festival for graduate and undergraduate students exploring performance, research, collaboration, and creativity
Call for Scores
National Student Electronic Music Event
Call for Works, Papers, and Installations
February 8-9, 2019 at the University of Virginia
In its seventh year, the National Student Electronic Music Event solicits works for its annual conference on February 8-9, 2019 at the University of Virginia in Charlottesville, VA.
N_SEME is an inclusive artistic and academic environment, incorporating DIY approaches to music-making, experimenting with instrument design, and participating in many forms of intermedia collaboration. We consider many forms of composition to be electronic music, including, but not limited to:
electronic improvisation
multimedia art
intermedia art
tape/fixed media
live electronics, analog or digital
video
DIY instrument performance
audiovisual environments
interactive electronic systems
sound installations
acoustic instruments and electronics
dance and electronics
multi-channel works
Composers currently enrolled as graduate or undergraduate students in a college or university are invited to submit up to two works across the following categories:
Music (day concert and late night)
Papers
Sound Installations
Music Submissions
Electroacoustic music for fixed media, with up to eight channels of audio.
Works combining musical instruments or voice with electronics.
Works for electronic instruments.
Video and multimedia works.
Works in progress will be considered if a substantial part of the work is complete. The accepted works cannot exceed the duration indicated at the time of submission, and the final version cannot be substantially different from the versions submitted.
For the selection process, multichannel works must be submitted as a Dropbox folder containing labeled stems (.WAVs or .AIFFs) and a speaker-labelling diagram.
Works involving instrumentalists are welcome, but the submitter must provide their own performer(s). Pieces should not exceed 12 minutes.
Click here to view the music submission form.
Late Night Submissions
Artists or groups interested in playing an extended set (maximum 20 minutes) during the late night concert at the Bridge Progressive Arts Initiative in downtown Charlottesville should submit with the form below. Sets of experimental, dance, popular, and DIY forms of music are encouraged for the late night concert. Output is limited to stereo and video projection is available.
Click here to view the late-night submission form.
Paper Submissions
Paper presentations, lecture demonstrations, and workshops related to the field(s) of electroacoustic music, new instruments, and related topics are encouraged. Please submit an abstract for consideration. Paper presentations are limited to 20 minutes, including Q&A.
Click here to view the paper presentation submission form.
Installation Submissions
We welcome sound installations to be presented on and around the UVA campus for the duration of the N_SEME weekend. Basic video projection and sound reinforcement will be provided. Artists will be responsible for bringing all other necessary equipment. Please detail your setup needs in the submission form.
Click here to view the installation submission form.
Technical Details
Please indicate in your tech requirements your input/output needs, as well as what equipment you will be bringing and what you need from N_SEME.
NSEME is unable to provide performers for submitted works.
Venue
NSEME 2019 takes place at the University of Virginia in Charlottesville, VA. All performances and activities during the day take place on campus. Late night concerts will occur at the Bridge Progressive Arts Initiative in downtown Charlottesville.
Diversity Statement
All works will be given equal consideration, regardless of the age, race, gender identity, sexual orientation, school, degree/program, or nationality of the composer/presenter.
Dates & Cost
Deadline: Scores/materials must be submitted by October 1, 2018. We will respond by November 5, 2018.
Entry fee: None
Registration fee: None
Guest Artist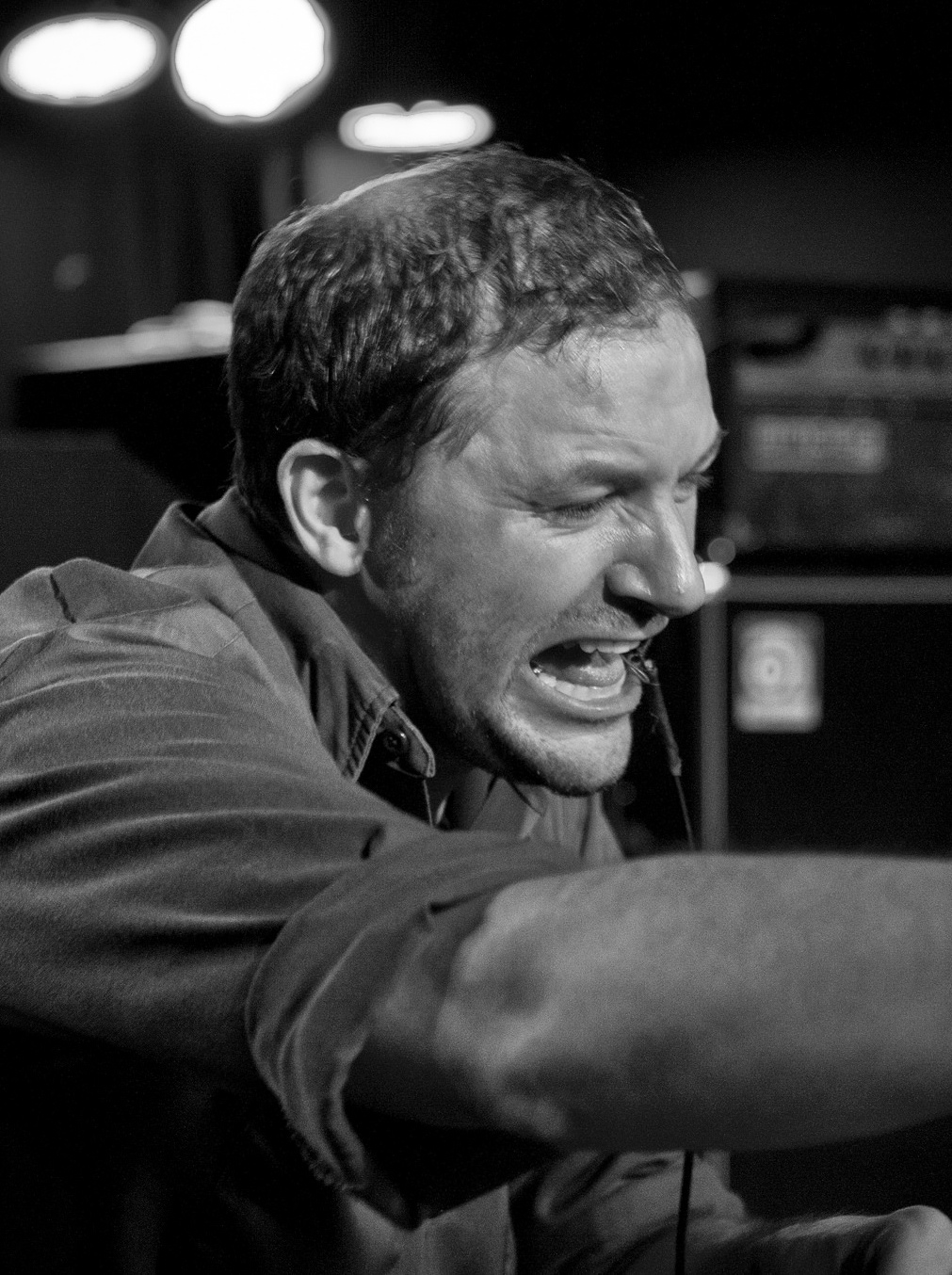 photo credit: Dirk Coenen
Aaron Dilloway is one of the most creative, prolific, and revered figures in the Midwest American experimental/noise scene. His performances and recordings incorporate rhythmic loops from eight-track tapes, vocal improvisations, found sounds, and field recordings. He uses contact microphones in order to generate harsh, feedback-laced noises, sometimes placing microphones inside his mouth in order to create bizarre, ogre-like distorted voices. While he channels some dark, violent energies into his sonic constructions, there's also a crucial element of playful, absurdist humor to his work, making his performances confusing yet highly enjoyable spectacles of Dadaist performance art.
While Dilloway is perhaps best known for his involvement with Michigan noise group Wolf Eyes, he's had an extensive solo career, issuing hundreds of recordings (usually limited cassettes) under his own name as well as Spine Scavenger. In addition, he's also collaborated and issued split releases with other well-known noise and experimental artists such as Kevin Drumm, Prurient, John Wiese, and many others. Dilloway is also the owner of Hanson Records, a long-running experimental music label as well as a brick-and-mortar record store and mail-order service based in Oberlin, Ohio.
Staff
If you have general questions about N_SEME or aren't sure who to contact, email rlb9fd [at] virginia [dot] edu.
Executive Director
Becky Brown - rlb9fd [at] virginia [dot] edu
Programming Director
Heather Mease - hm5dd [at] virginia [dot] edu
Technical Director
Ben Robertson - blr5ed [at] virginia [dot] edu
Paper Chair and Multi-channel Adjudication Contact
Eli Stine - ems5te [at] virginia [dot] edu
Installations Director
Alex Christie - acc3xp [at] virginia [dot] edu