01 Home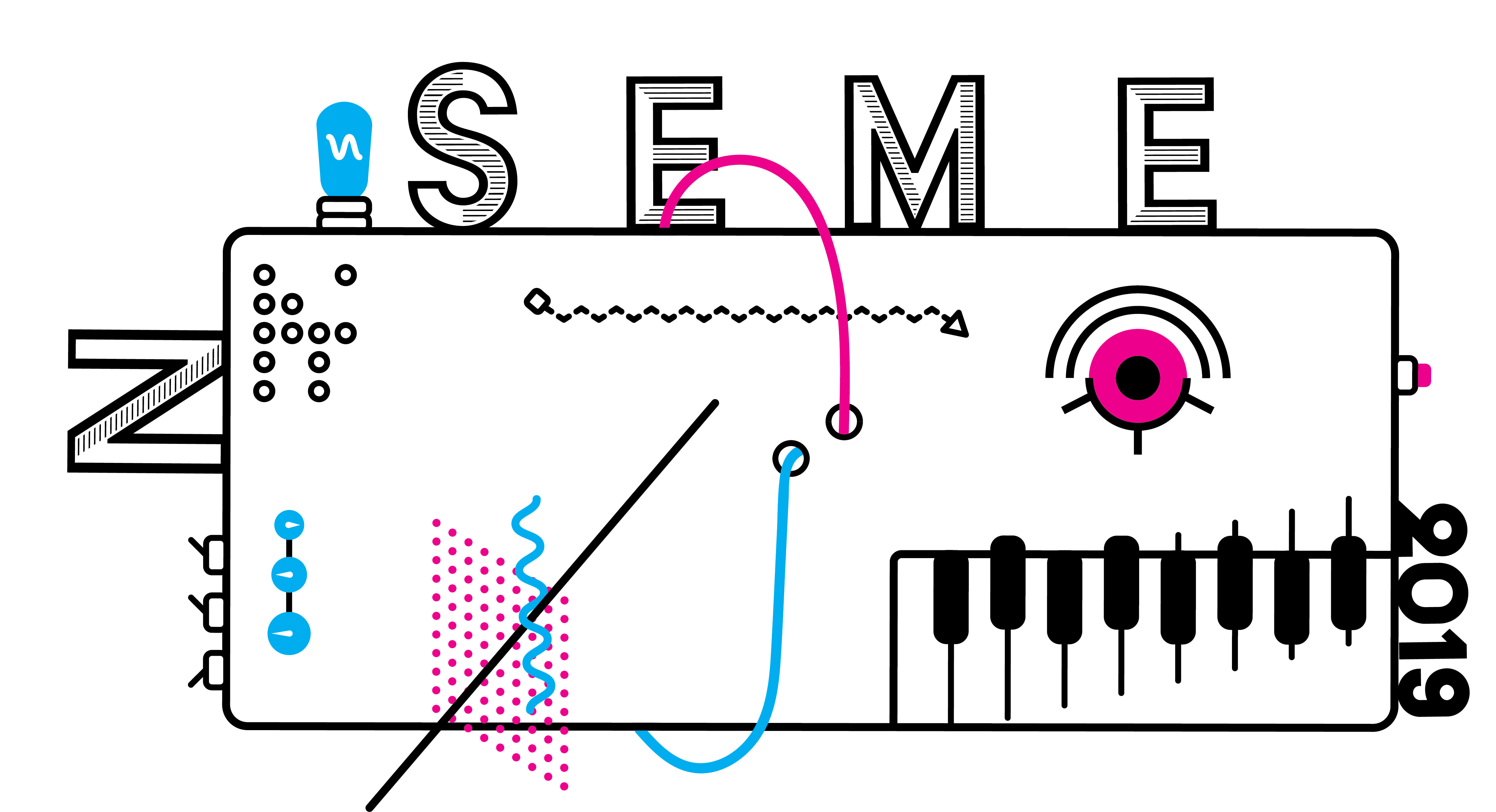 National Student Electronic Music Event
February 8-9, 2019 at the University of Virginia
an electronic music festival for graduate and undergraduate students exploring performance, research, collaboration, and creativity
Schedule
Installations
Memories of Light (Helen He): Language Alcove, Friday afternoon - Saturday
Through summersultryings (Chris Luna): outside Old Cabell Hall, Friday afternoon - all day Saturday
A more perfect union (Tate Carson): Old Cabell Hall lobby, Friday - Saturday
Concert 1
Friday, 10am, Old Cabell Hall
Elliott Lupp - Hinge
Juan Carlos Vasquez - Collage 11 "Albeniz Collage"
Nicolas Chuaqui - Footprints I
harleigh shaw - Entangled
Eli Stine - No Where
Ian English - Organism 2.5
Ryne Siesky - …grind…
Paper Session 1
Friday, 1pm, New Cabell Hall 323
Justine Valka - Using an Electromagnetic Pickup to Listen to Electronic Devices
Skye van Duuren - Bridging Worlds: Creating Fixed-Media Microtonal Music with Acoustic Instruments
Concert 2
Friday, 2pm, Old Cabell Hall
Stephen Hennessey - Left of Moments
T. R. Beery - inside
Carolyn Borcherding - Frenetic Disintegration
Peiyue Lu - Aquatic Cubes
Stewart Engart - Gli ugonotti – Qui sotto il ciel
Tomek Arnold - Dance and Noise
Ryan Maguire - freeLanguage
Guest Artist Keynote
Friday, 3:30pm, Old Cabell Hall 113
Presentation/talk by guest artist, Aaron Dilloway. Snacks will be provided after.
Carpool/Shuttle Piece
Friday, 5:30pm
Group car trip to listen to Drive to the Edge by Ralph Lewis, broadcast through WXTJ. After the keynote, we'll meet a shuttle out on Ruppel Drive (next to Wilson Hall).
Late-Night 1
Friday, 8pm, The Bridge Progressive Arts Initiative (209 Monticello Rd, Charlottesville, VA, 22902)
Julius Bucsis
MDLWR
AUTODIVA
MOSAIC
Concert 3
Saturday, 11am, Old Cabell Hall
Nicole Carroll - Orrery Arcana
Kittie Cooper - Party Teen #1
Drew Smith - Open Your Window
Carlos Cotallo Solares and Timothy David Orme - generations 1.1
Omar Fraire - Winning Quotes
G. Blake Harrison-Lane - Squissael
Aiman Khan - Ragged Call
Paper Session 2
Saturday, 1pm, New Cabell Hall 168
John Clay Allen - Perception and Analysis in Electroacoustic Music: A Unified Approach
Logan Barrett - Extended Combinatorial Structures in "Out of Time"
Kaiming Chen - MelodyPainter: Draw the Melody in Virtual Reality
Concert 4
Saturday, 3pm, Old Cabell Hall
Jacob Sandridge - Flock
Liz Knox - In situ
William Bertrand, Austin Covell - dregs-magic
Mauricio Fonseca López - Calicanto
Drake Dragone - Quiv
Aaron Stepp - Transparent, luminescent
Workshop
Saturday, 4:30pm, Wilson Hall Makerspace (1st floor)
Light Controlled Noise Synth Workshop with Travis Thatcher
Learn to build a hackable self-contained, light controlled three oscillator noise synthesizer based around the Hex Schmitt Trigger chip in this two hour workshop. Open to all skill levels though some soldering experience would be helpful.
This workshop has limited seats - please register through this form if you'd like to participate. We can only take the first 15 who register.
Late-Night 2
Saturday, 8pm, The Bridge Progressive Arts Initiative (209 Monticello Rd, Charlottesville, VA, 22902)
Anruo Cheng
Aaron Dilloway
Leon Bison
Binary Canary
Guest Artist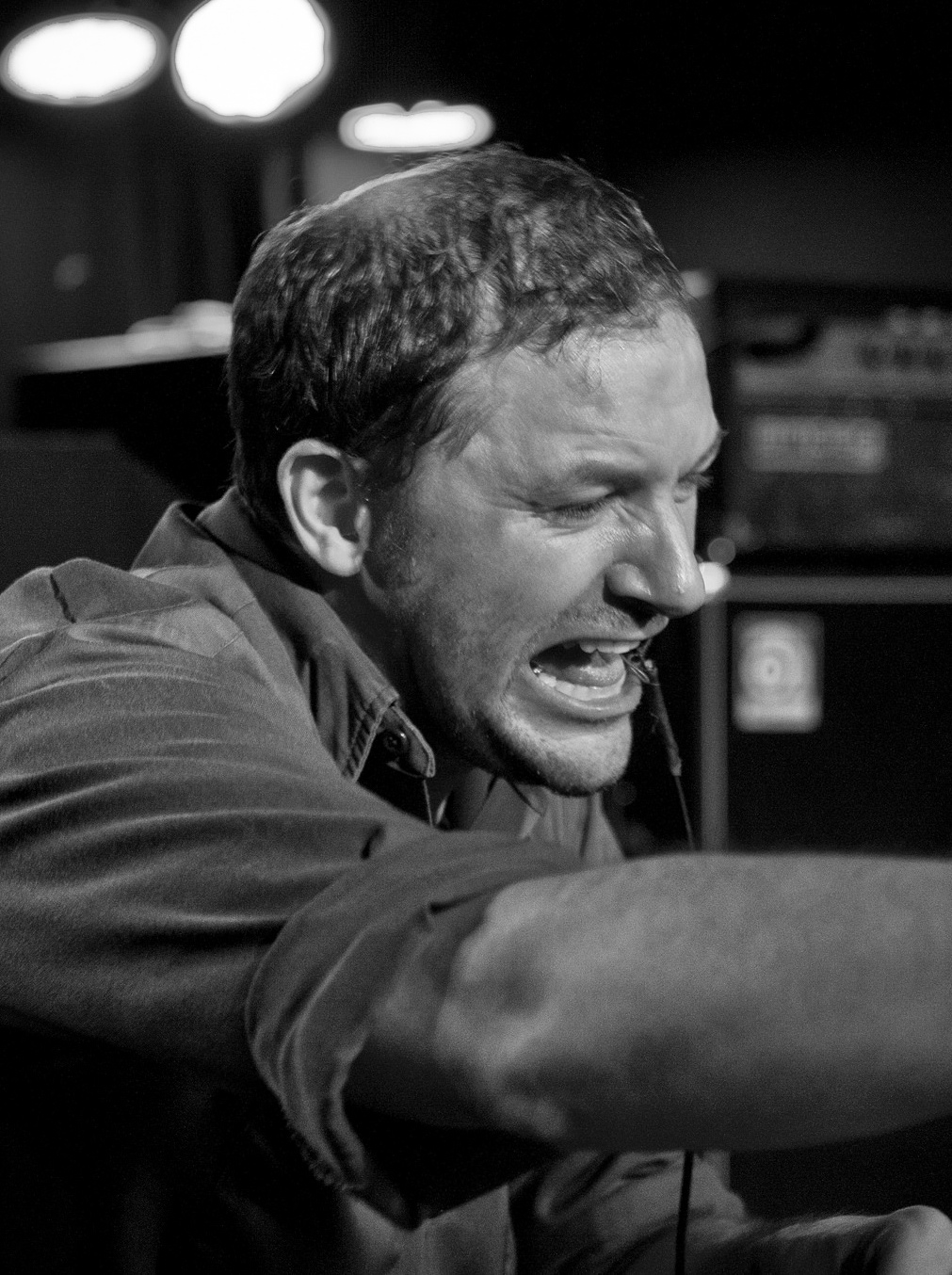 photo credit: Dirk Coenen
Aaron Dilloway is one of the most creative, prolific, and revered figures in the Midwest American experimental/noise scene. His performances and recordings incorporate rhythmic loops from eight-track tapes, vocal improvisations, found sounds, and field recordings. He uses contact microphones in order to generate harsh, feedback-laced noises, sometimes placing microphones inside his mouth in order to create bizarre, ogre-like distorted voices. While he channels some dark, violent energies into his sonic constructions, there's also a crucial element of playful, absurdist humor to his work, making his performances confusing yet highly enjoyable spectacles of Dadaist performance art.
While Dilloway is perhaps best known for his involvement with Michigan noise group Wolf Eyes, he's had an extensive solo career, issuing hundreds of recordings (usually limited cassettes) under his own name as well as Spine Scavenger. In addition, he's also collaborated and issued split releases with other well-known noise and experimental artists such as Kevin Drumm, Prurient, John Wiese, and many others. Dilloway is also the owner of Hanson Records, a long-running experimental music label as well as a brick-and-mortar record store and mail-order service based in Oberlin, Ohio.
About
The National Student Electronic Music Event (N_SEME) was created by and for students as a forum for peers to share ideas, collaborate, and expand the boundaries of the electronic music field. This year features Aaron Dilloway, a celebrated experimental/noise artist, whose music includes eight-track tape loops, vocal improvisation through contact microphones, found sounds, and field recordings. In addition to a concert and talk by Aaron, the festival includes concerts, papers, sound art installations, a DIY audio workshop, and a radio broadcast. N_SEME @ UVA is an inclusive artistic and academic environment, incorporating electroacoustic composition with or without instruments, DIY approaches to music-making, experimenting with instrument design, and participating in many forms of intermedia collaboration.
Staff
If you have general questions about N_SEME or aren't sure who to contact, email rlb9fd [at] virginia [dot] edu.
Executive Director
Becky Brown - rlb9fd [at] virginia [dot] edu
Programming Director
Heather Mease - hm5dd [at] virginia [dot] edu
Technical Director
Ben Robertson - blr5ed [at] virginia [dot] edu
Paper Chair and Multi-channel Adjudication Contact
Eli Stine - ems5te [at] virginia [dot] edu
Installations Director
Alex Christie - acc3xp [at] virginia [dot] edu